SEE WHAT THEY SAY AND LEARN FOR YOURSELF!
The photos and testimonials below are directly from Rammy's workshop participants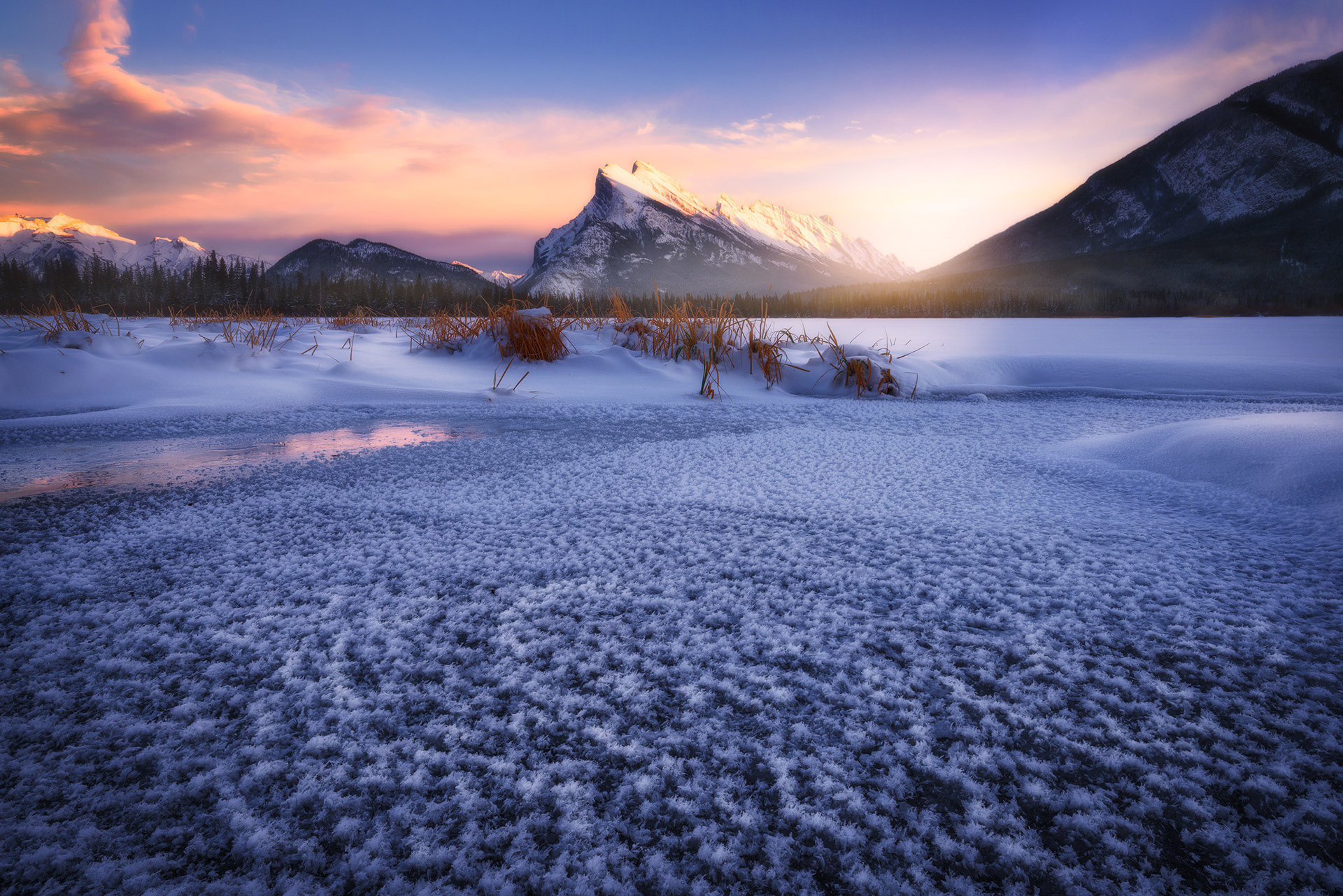 "This was my first workshop with Rammy. I had a great experience and I enjoyed every minute of it. Rammy helps you see things differently.  Being an interactive workshop, we spent a bunch of time shooting. Rammy is extremely talented and has a great knowledge of the Canadian Rockies. I would definitely recommend this workshop."
PAUL MORRISON, CANADA

"This was my First Workshop of hopefully others, with Ramtin. I was intrigued and fascinated by his photos and post processing being a part of the KelbyOne Community. I wanted to learn from one of the best. As a Christmas Gift my wife paid the down payment for his Yukon Heli-Hike photo tour. Ramtin did not disappoint me. The beginning started with the rental car company not "holding" the reservation. He was quick to get alternate transportation. I enjoyed the fact that it was intimate, just my brother and myself. We all got along so well we all became part of the Sour Toe Cocktail club in Dawson. He was eager to explain and teach what makes for an epic landscape composition. We also had a one-on-one post-processing session after the workshop where he taught his methods. With these two items combined I succeeded in getting some epic landscape photos. I will be looking at participating in other workshops with him in the future."
Stephen Brkich, TEXAS, USA
"I had the pleasure of spending a week with Rammy in the Canadian Rockies in summer. It would have taken me years to learn on my own what I learned in a week with Rammy. He is by far the best landscape photographer I've come across. I've studied dozens of professional photographers and Rammy is unmatched in his craft. His intimate knowledge of the art of composition can only be stated as awe inspiring. Rammy works side by side with his clients and is a natural instructor on what it takes to bring an amateur photograph to a professional level. If you're serious about taking your photography to the next level then taking one of Rammy's workshops is your first step. I was so inspired by working with Rammy and the level he can take me to that I signed up for all his coming tours."
"Ramtin Kazemi's winter Banff workshop was simply outstanding.  He made all the difference!
Without Rammy's local knowledge I wouldn't have known where to travel in the early morning and sunset hours to find stunning compositions enhanced by the best light.  To be clear... it was Rammy's knowledge of both weather conditions and accessible terrain that yielded results.  He was like a bloodhound, sniffing-out spots where cloud-cover led to diffuse, dramatic light amplifying the beauty of the region. 
Rammy's knowledge of composition and post-processing technique is astonishing.  We spent hours actively processing images in Photoshop to understand his workflow and artistic technique.  This work has allowed me to go back and re-edit old images, arriving at notably improved finished products. 
I greatly enjoyed sharing drinks, dinner (cooked by Rammy), and talking photography tales at the end of each day.  He is an excellent cook and is just fun to be around. If you are thinking of joining him on an adventure, you'll be happy you did."
"Rammy, 
Thank you again for a spectacular trip to the Canadian Rockies.  Much appreciate the unique shooting locations you prospected for us!  All were off the beaten track, allowing us to avoid the crowds and literally have the spectacular scenery to ourselves.  That's pretty rare nowadays.
 I've done a bunch of post-processing working before and was surprised at how many new techniques I learned from you.  Not just the technical stuff, but artistic theory backing it all up..
.  
By the way, you're the first workshop leader that actually cooked for the group each night.  Bomber cuisine brother!
Looking forward to doing many more workshops with you.  Client for life!"
Thomas snitzer, USA​​​​​​​​​​​​​​
"This is the 2nd trip with Rammy K and it's difficult to say which one was better.  Nonstop photography in killer territory.  I probably will have to go back.  Have never seen the northern lights and they were right on top of us!  Even if had struck out on the NL, the Tombstone's are something to behold.  The group bonded and have made some new friends.  Rammy's a great guide and full of ideas and inspiration"
DOUG GARDNER, USA​​​​​​​​​​​​​​
"Having been with Rammy on two workshops now, I am looking forward already to the next. 
His preparation is meticulous and nothing (except for the weather) is left to chance. He is an incredibly fun guy and an extremely gifted photographer with an eye for composition unlike anyone I've met. His post processing skills are also top notch and he communicates and teaches with patience and passion. 
Rammy loves to take care of his guests and his gourmet cooking skills were there to see in the wilderness of Tombstone Valley when preparing Santa Fe Rice and Beans in the dark! 
In any group people invariably have differing needs - photographic as well as otherwise. Rammy works with smaller groups than are frequently common in his industry and as a result is able to tailor his attention to individual requirements perfectly. 
A great time is guaranteed."
Adrian Tallack, USA​​​​​​​
"What an awesome trip we had! Rammy's energy, customer care, great humor, knowledge and choice of places, well-planned logistics combined with an unparalleled Yukon's scenery made this photo tour one of the most remarkable and memorable journeys of my life :)"
Diana Goldin, CANADA
"Rammy outdid himself on this Canadian Rockies Photo Workshop - incredible and amazing scenery, great photo locations, fantastic weather, awesome scene composition, and tons of information on post processing. I would recommend this Tour for everyone. Rammy is one of a kind and you'll find his motivation and desire to shoot the extra ordinary totally compelling. Just look at his photos! And if you're in luck, he might even display his cooking skills for you!" 
John Collins​​​​​​​, USA
"Canada in winter is a wonderland with so many unique opportunities from blazing skies to bubbles frozen in ice lakes. It can be hard to come to a new place and scout the best locations. I can't recommend Rammy enough!! He is an amazing photographer and has his own unique style for post processing and you get the benefit of not only his unparalleled local knowledge for locations but also the opportunity to learn from him how to process your pictures to the next level!! He can also cook up a damn fine steak 😁"
Sashi Rajamahendran, SRI LANKA​​​​​​​
"Visiting Canada with Kazemi was my second time going there for landscapes photography. However, with Kazemi it was different in many ways. The places we visited and the timing were perfect to capture ideal photos, I learned tons as the man really knows his landscape photography, the trip really worth every penny. Kazemi is an amazing fun guy and it was my pleasure knowing him I won't hesitate to go on another trip with him and I encourage any one who is interested in getting fantastic landscape shoots to book a place in his next trip."
Mohammad Ali Almehanna, KUWAIT
"There are many off the beaten path places that us landscape photographers dream of shooting. I've always wanted to photograph the rugged mountains in fall colors that also had northern-lights evenings in the remote wilderness of Yukon Territory. However, the planning, logistics and more importantly the knowledge of specifically where, how and when to go made this a never-ending challenge. Therefore the only real option for success is to join a professional photographer who provides expeditions off the beaten path. Thanks Ramtin for not only making that dream possible and comfortable - but for leading us to some killer-shot locations!"
Dave Behrens, USA
"Ramtin, Thanks so much for what – for me – was one of the most unforgettable photo adventures! Fantastic locations (how can you beat the Tombstone Mountains?) – yes, but the absolute camaraderie and interaction made for an over-the-top fun time! Until we meet again"
Todd Miller, USA
"Thank you Ramtin for an awesome Adventure /Photography tour. I had a wonderful time and learned a lot about Landscape Photography. Your Photography Tour is once in a life time experience, the Tombstone landscape is beyond my comprehension. I am still not recovered from the experience. Your gourmet cooking is awesome too. One day soon I will want to come back again"
Maria Campbell, CANADA
"First of all! Ramtin is the man! Not only he is a great photographer, he is also an awesome person to be around with! I went to his workshop in the Canadian Rockies the first week of January and I had the best photography time of my life. The whole week was full of adventures to many different locations. This was my first workshop I have ever done and Ramtin is an easy going teacher. He will let you do your own work, but if you have any questions about composition, framing, etc. he is glad to help you and give you another perspective. Overall, this was a great experience, the locations Ramtin took us were great and the photos we took were even better. I definitely recommend you do the Canadian Rockies Winter Adventure with Ramtin and be prepared to be fascinated by the landscape the Rockies provide. You will not be disappointied! You can see my images and some editing techniques learned from this workshop at Instagram or 500px by following me @lu8cho. Thank you again Ramtin for an awesome adventure!"
Lucho Torres, USA
"My parents and I went on a photography workshop with Ramtin in July 2016 to Georgian Bay. From months before, Ramtin was always available to answer my many questions, whether they were photography-related or not. He was very well prepared and arranged a meet up so we would be very well prepared as well, which made everything really smooth. The photography workshop was great. Ramtin spent a lot of time explaining us how to get the right composition and the right shot. He was always checking on us, making we were ok and always willing to explain more and even re-explain. Not only did I improved my photography skills, but it was a great nature experience! Cross-country camping was a first for us and on an island in the middle of nowhere, it was amazing! We laughed, met great people, cried a little under the rain and warmed up in the Canadian summer sun and firepit. Would definitely recommend it :)"
Melaine Wistuba, FRANCE
"Doing a skype one of one session with Ramtin is very straight forward and informative. Yes! You do not need to have photo because he can go over with you his techniques and workflow using his own images. He is very knowledgeable and savvy with post processing and he will show you every detail and how it affects the image. He will show you how perspective and color corrections affects your composition"
Mardie Else, USA
"One of the best adventure trips I've ever been on! Had a blast right from the time we got there. There were 10 people in our group and everyone had a great time – a perfect mix. I've done a lot of photography but I don't have any astrophotography experience, and Ramtin was great at showing us how to get properly setup and frame up some great shots on the first night. We had 4 clear nights and I got in some really good results. The stuff I learned will be with me forever. I'm so glad I made the decision to go. Can't thank you enough, Ramtin"
Dan Sheehy, CANADA
"We went on Ramtin's photo excursion of the West Fox islands where he taught us everything we needed to know about astrophotography from the technical details, to the importance of composition, to post-processing. We learned a lot about photography and the adventure was an equally great aspect of the experience. Ramtin planned every detail of the trip and made sure we had all the information we needed to be prepared for 4 nights on an uninhabited island. Ramtin is also a great chef, providing us with some of his delicious homemade beef jerky and serving us bannok fresh off the campfire. We had a blast and would absolutely go on another photo-adventure with Ramtin!"
Matthew Frederick, CANADA